My last morning in London I was walking by
Selfridges
with their "Bright young things" windows displaying works of 20 young designers (including Craig Lawrence), illustrators and artists till the end of February. Selfridges succeeded to create a concept extremely easy and nice to relate to - these bright young guys' life-size paper figures which can fully demonstrate how cool they all are even apart from their work. In fact Selfridges did well visualising not only their pretty youthful appearance, but also the period in designer's or artist's life when everything one creates ia inextricably linked with it's own blood flow and the vision of oneself.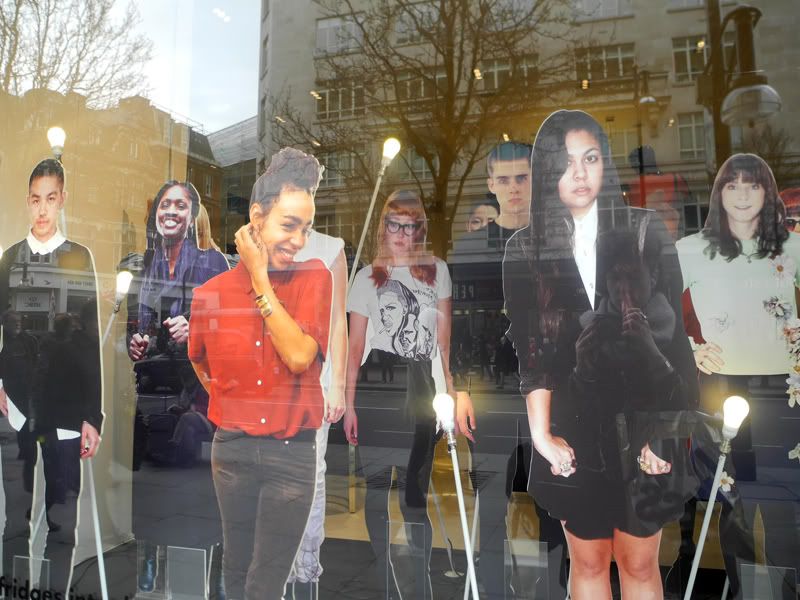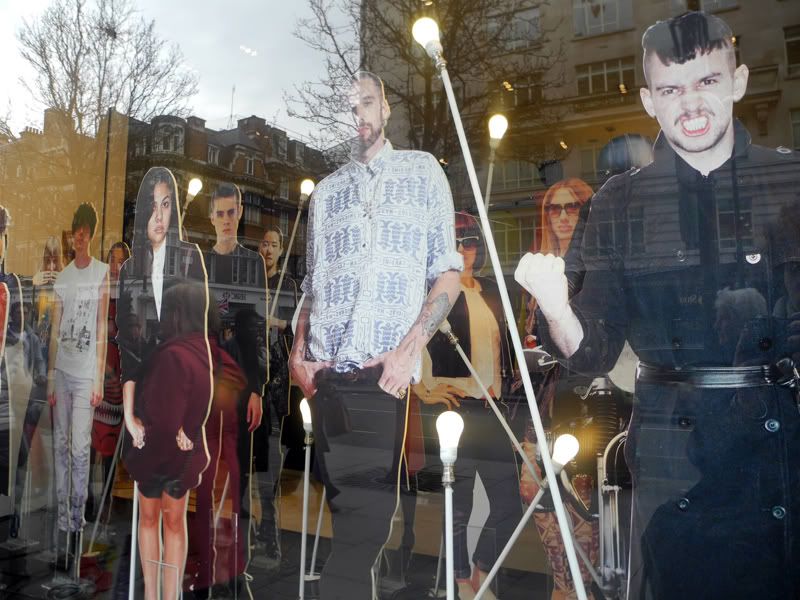 Displaying in February:
Patternity
Anna Murray and Grace Winteringham's shared love of patterns led them to found unique brand Patternity in 2009. Believing they can find beauty in everyday life, from the mundane to the magnificent, they encourage others to appreciate the patterns in the world around them.
Jessica Dance
Prop maker, set designer and accessories designer Jessica Dance creates playful and childlike pieces. Her handmade pendants, which combine modern fabrics and traditional craft techniques, work perfectly with this season's bright colour palette.
Lee Roach
Central Saint Martins graduate Lee Roach already has an underground following which includes the indie-electro group The xx. His spring/summer 2011 collection features minimal and monochromatic pieces which combine feminine shapes with sharp masculine tailoring.
Little Glass Clementine
Jeweller Clementine James collects treasures and precious gems and uses them to weave a narrative through her intricate, whimsical designs. Key to her work is a desire to recycle and reuse what has been discarded to create exquisite sustainable statement jewellery.
Martine Rose
A big name at London Fashion Week's MAN show, menswear designer Martine Rose is heavily influenced by Nineties hip-hop. Her contemporary streetwear pieces combine fabrics from silk to vinyl with a bold use of colours and prints.
Matthew Miller
Royal College of Art graduate and menswear designer Matthew Miller explores the world of the modern day gentleman through his work. Combining classic tailoring techniques with modern materials, his collections are slick, smart and designed for contemporary living.
New Power Studio
A collaboration between super stylist Thom Murphy and womenswear designer Ebru Ercon, New Power Studio combines tailored and slick sportswear with an avant-garde approach to luxury fashion to produce inspirational pieces including rubber glove tracksuits and neoprene tees.
Rhea Thierstein
Rhea Thierstein has created exceptional editorial set designs for the likes of Pop magazine and Vogue, working with esteemed photographers including Tim Walker and Vivienne Sassen. Her beautiful silk flower hairclips mirror her extraordinary and surreal window at Selfridges.
Shao Yen
London-based fashion designer Shao-Yen Chen brings together sculptural forms and innovative textiles to challenge the boundaries of traditional knitwear. His graduate collection of bold and sexy silhouettes was selected to show at London Fashion Week autumn/ winter 2010.
Yang Du
Fashion designer Yang Du is a Central Saint Martins graduate who has already worked alongside top designers including Vivienne Westwood, Giles Deacon and John Galliano. Blurring the lines between art and fashion, her catwalk creations are bright, surreal and unique.