Station to Station
(1976) introduced a new Bowie persona, the "Thin White Duke" of its title track. Visually, the character was an extension of Thomas Jerome Newton, the extraterrestrial being he portrayed in the film The Man Who Fell to Earth the same year.[56] Developing the funk and soul of Young Americans, Station to Station also prefigured the Krautrock and synthesiser music of his next releases. The extent to which drug addiction was now affecting Bowie was made public when Russell Harty interviewed the singer for his London Weekend Television talk show in anticipation of the album's supporting tour. Shortly before the satellite-linked interview was scheduled to commence, the death of the Spanish dictator General Franco was announced. Bowie was asked to relinquish the satellite booking, to allow the Spanish Government to put out a live newsfeed. This he refused to do, and his interview went ahead. In the ensuing conversation with Harty, as described by biographer David Buckley,
"the singer made hardly any sense at all throughout what was quite an extensive interview. [...] Bowie looked completely disconnected and was hardly able to utter a coherent sentence."
His sanity—by his own later admission—had become twisted from cocaine; he overdosed several times during the year, and was withering physically to an alarming degree.
Station to Station's January 1976 release was followed in February by a three-and-a-half-month concert tour of Europe and North America. Featuring a starkly lit set, the Isolar – 1976 Tour highlighted songs from the album, including the dramatic and lengthy title track, the ballads "Wild Is the Wind" and "Word on a Wing", and the funkier "TVC 15" and "Stay". The core band that coalesced around this album and tour—rhythm guitarist Alomar, bassist George Murray, and drummer Dennis Davis—would continue as a stable unit for the remainder of the 1970s. The tour was highly successful but mired in political controversy. Bowie was quoted in Stockholm as saying that "Britain could benefit from a Fascist leader", and detained by customs on the Russian/Polish border for possessing Nazi paraphernalia. Matters came to a head in London in May in what became known as the "Victoria Station incident". Arriving in an open-top Mercedes convertible, the singer waved to the crowd in a gesture that some alleged was a Nazi salute, which was captured on camera and published in NME. Bowie said the photographer simply caught him in mid-wave.[60] He later blamed his pro-Fascism comments and his behaviour during the period on his addictions and the character of the Thin White Duke.
"I was out of my mind, totally crazed. The main thing I was functioning on was mythology ... that whole thing about Hitler and Rightism ... I'd discovered King Arthur ...
".According to playwright Alan Franks, writing later in The Times,
"he was indeed 'deranged'. He had some very bad experiences with hard drugs"
.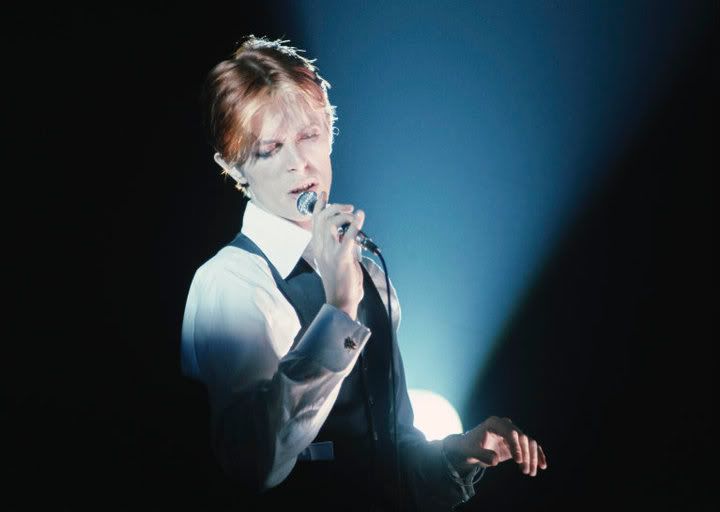 Menswear Fall-Winter 2011-2012 Dries van Noten collection is very strong starting with
The Thin White Duke
inspiration through raw fabrics, fur, restrained colours including that nice camel, double-breasted jackets and dark overcoats ending with reddish blond hair slicked back and empty pale blue models' eyes. Sculpture of Antoine Bourdelle above the runway made an impressive picture with a dark hint or maybe that is just Bowie's nazi accusations of the 1970s tingle.