I have already held the latest issue of
032c
in my hands in the end of may, during my
surreal visit
to Kiev. It was getting dark, I woke up on the couch, hangover echoing in my bones and floating through my skin, the apartment was silent, everybody was out, someone to the forest, someone sleeping in the back room. So I sat at the table, drinking tea, hands shaking, a weird bare bone on a plate somewhere too close in a small kitchen, I could feel it's presence. I was halfway through a long Scott Campbell interview when the guys came with 3 bottles of wine, and I never managed to read it to the end.
The next day we met Joerg Koch and he gave my good friend Zhenya another new issue, and we thought "Ah, hell", and he asked Joerg to sign it. But Joerg Koch said "No, I don't want to spoil it with my signature, It's already perfect". We laughed about it later, but now, when I think of it, I think he was right. No need to spoil it. It is perfect.
"I got my first tat in 1978. None of you were even born yet. You really missed out." – NAN GOLDIN in a letter to SCOTT CAMPBELL, the young and famous tattoo artist featured in this issue's 40-page cover dossier, complete with poetry from French modernist FRANCIS PICABIA and a little-known short story by SYLVIA PLATH. Elsewhere AZZEDINE ALAÏA bares his love for animals and women; English artist HELEN MARTEN builds a page-specific installation; dream boys OLAFUR ELIASSON and KEVIN KELLY get techno-Utopian; AL-JAZEERA proves it's the media outlet of the new millennium; LUCAS OSSENDRIJVER takes LANVIN to the frontiers of men's wear design; FERNANDO ROMERO builds an art museum in Mexico for the world's richest man; DANKO and ANA STEINER go downtown with LEELEE SOBIESKI and Salem's JOHN HOLLAND; Munich magazine magnate Dr. HUBERT BURDA talks tabloids and media theory while the king of arts publishing WALTHER KÖNIG takes us back to the first German art world boom; JUERGEN TELLER shoots KRISTEN McMENAMY in CARLO MOLLINO's Turin estate, testing the Mollino mantra, "Everything is permissible as long as it is fantastic"; New York's DIS magazine invades our Global Briefings section; 032c's latest SELECT presents the best of this season's books, products, and ideas; and so much more on 276 pages.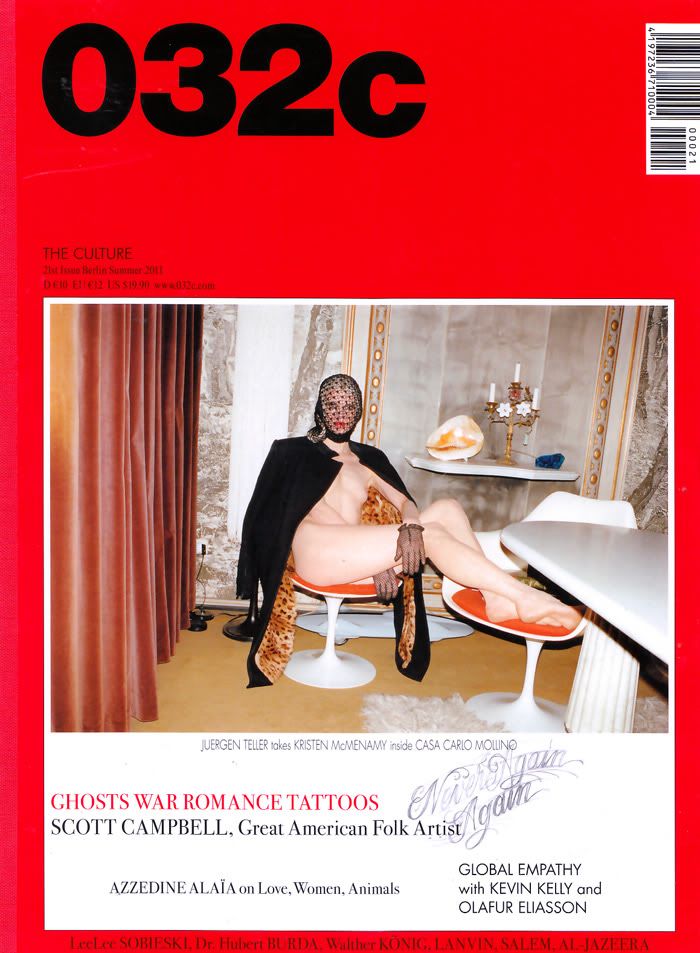 Kristen McMenamy claimed she was the weirdest model of her time, and anybody who liked her seemed to appear queer or mental, but still, she married one of the biggest club owners which resulted in excessive coke consumption and kids. Which is obviously great.